We're getting ready for a high-energy, jam-packed, 3-day online celebration of testing this November: with 6 keynotes, 9 half-day tutorials, & 40 track sessions, plus lots of community networking.
You're getting hands-on learning, problem solving with your peers, and juicy insights to get your creativity flowing – and if you can't join us on the day, it's all on demand after.
Right now, you can save €150 and secure your place at EuroSTAR Online. But hurry, our offer is closing in just a few days!
Here are 3 reasons you can't miss it.
The Speakers
Our keynote speakers are leaders in their field, and they're bringing their expertise to the topics you care most about, including agile, DevOps, automation, functional testing, quality improvement, and lots more.
Jason Arbon shares real-world examples demonstrating the limitations and pain of some AI approaches. Michael Bolton will help you ask those tough questions in testing. Join Abby Bangser for examples and explanations on leveraging the dynamic duo of observability and testing in production.
Learn more about about common testing challenges while moving to cloud-based, microservice architecture with Tomasz Dubikowski. Learn how to develop a quality narrative that communicates the true value of your quality team throughout the company with Ronald Cummings-John.
The Learning
With expert speakers, hands-on workshops and tutorials, you'll absorb infinite and invaluable knowledge from many of the world's brightest minds. Tutorials this year include Addressing Real Life Agile Testing Challenges with Fran O Hara, technical web testing with Alan Richardson, a strategic testing masterclass from Fiona Charles, and lots more. You'll be back at your desk filled with actionable ideas to apply to your work. Check out our programme here!
Don't worry, we've still got your Huddle favourites, re-imagined for an online platform: take part in our TestLab by completing challenges, exercises and games; and solve all your testing problems at our dedicated Test Clinic.
The Community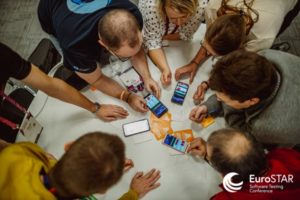 We're thrilled to be gathering the global testing community online this year – which means it's easier than ever to chat with your peers – people who share the same problems as you, even on the other side of the world.
Say hello to new friends: connect 1:1 on video chat, try speed meeting, community networking, and jump into conversations from around the globe!